Clever and creative ideas for the ultimate playroom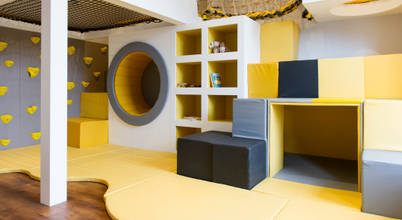 Although buying lots of storage options for a playroom (or any space) is easy, making it look effortless is a bit trickier.
Opt for a mix of open and closed storage. Closed storage will allow you to put away toys with lots of tiny parts (that aid in visual clutter), arts and crafts supplies like glue and litter, etc. 
Open storage, on the other hand, allows you to display beautiful and everyday items like books, toys that are often played with (such as during bath time), etc. 
And always include storage bins that don't look too child-specific – there's no reason, for example, why that storage bin must be shocking pink. A slightly more elegant colour palette or wood finish is perfect and can remain trendy and practical for years to come. 
Video of Clever and creative ideas for the ultimate playroom